Bio
Who is the real Kelly M. Bedsole?

Kelly M. Bedsole, ASID
Kelly was one of the rare few that actually knew what career path she desired before starting college. She received a Bachelor of Applied Arts in Interior Design from the American College in Atlanta, GA. After spending a few years in Ashville, NC as a kitchen designer she moved to the beautiful Emerald Coast in 1996 and joined the design team at Lovelace Interiors. During her time there, she passed the NCIDQ, joined the professional membership of ASID and was awarded Designer of the Year in 1998. After having her only son, Harrison Douglas, in 2001, she decided to start her own design business. Porter-Smith Designs Inc. is a small design studio conveniently located in the heart of Destin, Fl. Fortunately for Kelly, her business is primarily referrals and repeat clients. She credits this to the lasting relationships she develops during the creative process of each project. The opportunity to create beautiful interior design throughout the Southeast and as far north as Washington, DC and west to Beaver Creek, CO are testament to Kelly's talent and a showcase of her adaptability for each project and clients desires. When Kelly is not working she enjoys family time, friends, cooking, paddle boarding, bicycling, snow skiing, hiking, traveling …and always a wonderful glass of wine!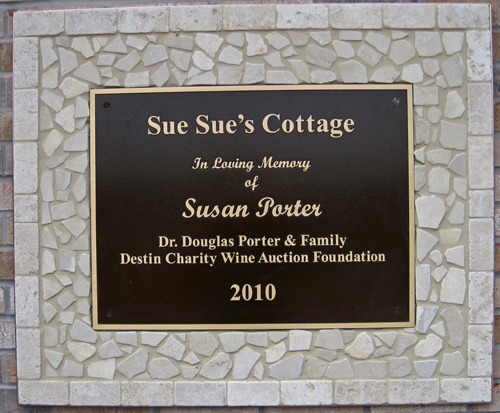 The Story of Susan Porter, the DCWAF and Sue Sue's Cottage
When Susan Porter found out she was terminally ill, she decided to help others; to do something great that would live on. She had been diagnosed with terminal breast cancer before viewing a presentation about the proposed Children in Crisis Neighborhood. She knew that the concept was to offer local foster children a place to stay with their siblings until a more permanent home could be prepared and that's all she needed to know. Susan and Doug made a donation to help purchase a home in her name within the future neighborhood. Susan, or "Sue Sue" as she was affectionately known to loved ones, was able to forget about her pain for a moment and imagine the pain of devastated children.
Thanks to the Porter's donation, coupled with the support from the Destin Charity Wine Auction Foundation, we celebrate the grand opening of Sue Sue's Cottage today. The Destin Charity Wine Auction Foundation, whose sole purpose is to raise money for children in need through wine events has raised nearly $3,000,000 in just four short years and has impacted the lives of countless needy children along the Emerald Coast, hosted dozens of world-class wine and culinary celebrities, and become one of the fastest growing and most talked about wine charity foundations in the nation. Thanks for your generous support...together we can make a difference.

In loving memory of Susan Porter July 18,1948—June 28, 2005
One of the wonderful memories that my siblings and I share was arriving from school to be greeted by our sweet mother "Sue Sue." She always listened to all of the details of our school day. Her kind, non-judgmental spirit always encouraged us to try to make our own decisions. She never preached but led by example.
I was at Sue Sue's Cottage last week when all seven kids came home from school. Tammy and Jeff greeted them and encouraged them to share their school day. Just as I remember mom doing. That's what this is all about! Creating a loving safe environment for the kids of our community.
Mom always lived in the moment! She lived each day to the fullest enjoying her art, reading, gardening, family and friends. My father often reflects on his memories of mom and says, " She's the only person he has ever known to live her life like a true Buddhist." She was always in NOW! If she could only see The Children's Neighborhood NOW!
WOW! What a journey this has been since the beginning concept of the neighborhood. The amount of love and dedication the staff and volunteers have devoted to this project is incomprehensible! Thanks to all of you and what you have created for the children of our community. "Our Children and Our Future"
Thank you sweet Sue Sue for your loving kind spirit that will continue to change the lives of the many children that walk thru the doors of Sue Sue Cottage. —Kelly Porter Smith

Area Designers Help Furnish the CIC Childrens Neighborhood!

Thanks to great community support, the CIC Childrens Neighborhood is taking shape! Area interior designers have pitched in to help furnish the two homes that are nearing completion. The emergency shelter for abused, neglected and abandoned children and the first foster home will open soon and the entire community will be invited to the Neighborhood site for a House Warming and Ribbon Cutting on Sunday, December 9, 2007, 2:00 pm.

Ken Hair, Executive Director, Children in Crisis, commented "I am truly amazed and very thankful for the great support from our community. The wonderful commitment from area interior designers and businesses has played a vital role in our progress. Just a few of the business that have helped us with the design, decor and furnishings of the first two homes are; Porter-Smith Designs, Inc., Infinity Flooring, Destin Lighting, Sugar Beach Interiors, Interior Detailers Inc., Shaw Industries, Dal-Tile, United Lighting and Supply Co., Cabinet Source, G & L Marble, Florida Bath & Surfaces, Gulf South Distributors, Americasmart, Palm Paper & Supply, W Design and Planning Group, Arts TV and Appliance, Independent Flooring, Lafayette Interior Fashions, Corporate Design Systems, Leigh Wright Interior Design, Inc. and many more. What a true community effort!".

Sharilyn Darnell, Past President of the CIC Board of Directors, came up with the idea of involving the design experts of our community and called on Kelly Porter-Smith of Porter-Smith Designs. Kelly formed the committee of designers who are also dedicated to helping with CIC's vision of providing homes and establishing hope to the children in crisis of our community.

Mack Gay, President of the CIC Board of Directors pointed out, "The Children's Neighborhood and all we're doing for the children of our community wouldn't have been possible without the complete support of our area businesses! From the very start, we've had help with the site preparation, infrastructure and construction. We are truly blessed by their efforts!"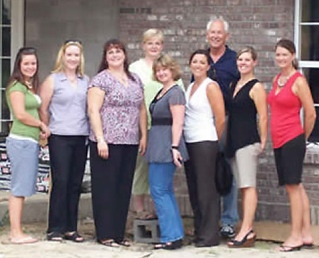 Pictured in Photo: Brittney Welsh, Sugar Beach Interiors Inc., Robin Lowrey, Sugar Beach Interiors, Inc., Kathy Fyock, Destin Lighting, Glenda King, Interior Detailers Inc., Leisa Johnson, Infinity Flooring, Ashley Vogt, Corporate Design Systems, Mike King, Interior Detailers, Inc., Kelly Porter-Smith, Porter-Smith Designs, Inc. Leigh Wright, Leigh Wright Interior Design, Inc

Cottages for Kids 2009

CVHN Cottages for Kids is a unique fundraising event that benefits Children's Volunteer Health Network, Inc., a faith based, 501(c) 3 non-profit organization that seeks to enhance the lives of uninsured and underinsured children by facilitating free immediate access to medical, dental and mental health care.

With tremendous imagination and craftsmanship, builder's and architects come together to create, construct and decorate whimsical cottages that look like they have popped out from the pages of a fairytale to modern creations brimming with creativity.

The Crooked Cottage, pictured below, was a collaborated effort by Thurber Architects who created the original design concept and structural plans, Regal Stephens who supplied materials, labor, time and knowledge to construct it and Porter-Smith Designs who completed the interior design and finishes, as well as the many friends, family and associates who donated time, expertise and materials for this fun and exciting project.