WOW! Here we go…. My first blog entry!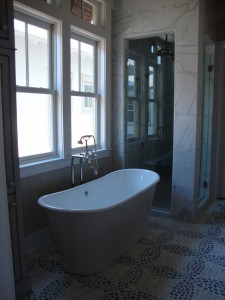 This classically inspired master bathroom is in a home I designed in Water Color, FL.  The design concept was a traditional New Orleans style with a coastal influence.
I recreated the ancient art form of mosaic design with the use modern materials. I incorporated two different natural stones, the Pebble Stone series by IslandStone and drew a series of interlocking circles as my floor treatment. (This product is available in 12 x12 sheets and the artisan installer executed the design flawlessly, not an easy task.)  The darker color stones were repeated for the floor and ceiling of the shower.  This was the perfect backdrop for the clean Casa Bianca honed marble on the exquisite master shower walls.  The beautiful Rohl Country Bathroom Collection polished nickel faucets I selected, achieved an elegant contrast to the marble.  The graceful style and color of the Cheviot cast iron tub was the ideal choice to repeat the hue of the marble.  Inspired by the color palette of the mosaic, I selected a grey paint color with a darker grey glaze to create the patina for the cabinetry.   By selecting antique mirror doors for the cabinet design, I continued the use of classic elements.  Additionally, the marble countertop and backsplash design repeated this theme. I love the contrasting material of the Oceana  glass sinks that is reminiscent of the beautiful beach glass found on our beaches.  Finally, the more rustic white washed wood walls also combined the coastal element to accomplish our classically coastal inspired master bathroom.